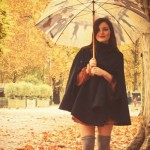 Autumn is officially here – the leaves are falling, the temperature is dropping and, for our UK readers in particular, heavy rain-fall (and superstorms) are here too.
It's time to fold away your summer clothes and inject some elegance, style and fun into your autumnal wardrobe.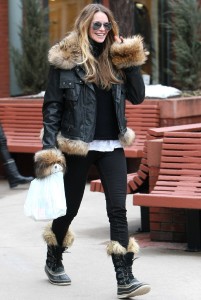 Dressing for colder, wetter weather has many advantages as many women will confess. Indeed, this blustery season is often a favourite for fashion-lovers. It's a perfect excuse to wrap up in warm, natural fabrics – wools, tweeds, layered silks and denims.
Plus, we get to experiment with fab autumnal colours – dove greys with deep blues, sage greens with mustards and teal with maroons – very flattering to all skin tones.
This is such a flattering style season too – no need to expose too much flesh! Autumn (or 'the fall' to US readers) allows us to enjoy slimming jeans, skirt/thick tights ensembles (a personal fave), fitted coats, hooded jackets – plus gorgeous scarves, wraps, cute hats and gloves too.
PUT YOUR BEST BOOT FORWARD THIS AUTUMN
But best of all, autumn allows us to wear our favourite footwear – boots! Boots are the perfect accessory for this season and the best are designed with durability combined with comfort and of course, style.
A good winter boot is an investment. A strong day-wear boot that is going to keep your feet warm, protected from the elements and look good is a must-have.
I recently discovered the SOREL boot range and have to say the quality of design and structure is in a league of its own. They're stylish too – even the likes of David Beckham and Elle McPherson (above) have a pair.
Founded in 1962 in Canada, SOREL footwear is extremely functional and I love the sturdy yet funky aspect of this range. From terrential rain and thick snow to kicking up the leaves in the park on a crisp November morning, they look and feel REALLY good.
They come in a superb range of designs – think log-chopping, lumberjack, no-nonsense tough boots for men through to stylish, rain-protective ankle and mid-calf length day boots for women who won't compromise on quality. SOREL boots have great names – the Conquest Carly Boot (right) really does look like you could conquer a mountain or two in them – or a long walk in beauty spot for the less adventurous!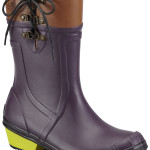 They even do a children's range (very good and hard-wearing). For those looking for a tough boot with a feminine touch they are the 'perfect fit'. I love the women's Joan of Arctic Wedge boot (check out this VT for tips on this style here). Invest in a pair of SOREL boots yourself by simply ordering online from cloggs.co.uk

GET YOUR BOOTS DIRTY CAMPAIGN
Shine! magazine particularly LOVES the SOREL 'Get your boots dirty campaign', which celebrates real,inspiring women who are fearless in their creativity and pursuits – women who 'Shine!'. Read more here.
GIVE IT SOME WELLY!
For the puddle-splashers out there … or those simply trying to keep their tootsies protected from mud and rain, I also suggest the classic that is the Wellington boot or wellies. They are a vital addition to your wardrobe as well as being boldly practical. I keep an old pair in the boot of my car for emergencies but, as I have learned, the humble welly has stepped up its game too in the world of style.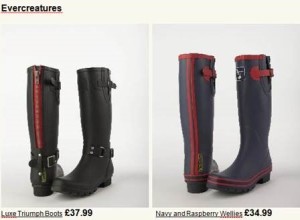 You can now get really smart and flattering wellies in all kinds of designs and I am particularly impressed with the fab and affordable range from The Welly Shop in the UK. Check their website out here: http://thewellyshop.com/ I like that they're doing some very versatile designs as well as the classic green Hunter or black Wellington boot. The Triumph biker style design (left) is very cool and would look fab on both a city chick or country gent.
GETTING OUTDOORS IS GOOD FOR YOU…
Whatever your autumn/winter footwear choices, do get out and enjoy the fresh air. Experts say that just 20-30 minutes outdoors taking in the daylight is the best way of topping up your essential Vitamin D levels. Spending time outside – be it the local park, gardening or a hike up into the hills is good for your soul and mental health.
The UK mental health charity MIND recently launched an Ecotherapy campaign promoting the wonderful health benefits of getting outside and into nature more – check it out here http://www.mind.org.uk/about-us/policies-issues/ecotherapy/