Food Awakening – Nutrition for Now – by Julie Silver, the Vitality Fairy.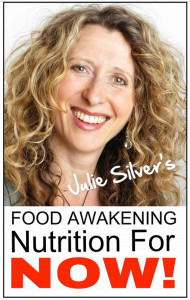 Every now and again a book will arrive at the Shine! magazine HQ and really win us over instantly. That was the case with Food Awakening – Nutrition for Now, by top UK nutritionist Julie Silver – known as the 'Vitality Fairy'.
This compact, easy-to-follow book is packed with inspiring and common sense guidance on how to eat mindfully and healthfully. Unlike a lot of nutrition books and journals, there is a welcome absence of gobbledygook and instead, lots of wise, sensitive and common-sense advice.

The Vitality Fairy – Julie Silver
The author, Julie Silver (who is known as the Vitality Fairy – we love that!) is a real authority on food, health and nutrition and has worked with both individuals and major corporations on embracing a healthier diet and lifestyle. What makes this easy and concise e-book so enjoyable and educational is its emphasis on developing a very human, mindful approach to what and why we eat.
Julie Silver encourages those who are looking to make healthier choices in their life – including food – to stop beating themselves up for not being perfect and instead advocates that we all take our vitality 'journey' one day, moment at a time. It is a wonderful approach and one the team here at Shine! totally applaud.
Too many health authors try to offer quick fixes and gimmicks, but not Julie Silver. The Vitality Fairy encourages us to have that slice of cake if we really, really want it … but to not judge yourself and end up in a heap of guilt afterwards. Balance is the key, she says. There is even a chapter devoted to this called – Curse the cravings or enjoy the éclair (Chapter 7) – how refreshing!
"Do your best not to label any food as 'good' or 'bad'. It is as it is, and by accepting this, then you will feel a lot better about yourself," – Julie Silver – Food Awakening – Nutrition For Now.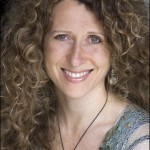 It all makes for very interesting reading and adding to this, we learn about Julie's own journey to better health (she is herself a great advert for vitality, with her glowing skin, sparkling smile and luscious hair). In a very honest and non-judgemental fashion, she explains how making major changes to her own personal life also triggered a whole series of fundamental choices about her health – physical, mental, emotional. Today, she continues to live by this holistic approach in which working with her intuition is her guide.

Dieting and slimming…
I read the chapters on dieting and weight loss with great interest. Not many among us have a naturally lean and healthy body and in fact, most of us struggle with our weight. Well, again Julie gives some very original insight and advice.
Author Julie says: "Most people think that if they did lose the weight they would feel great. I've heard that some beautiful models and actresses have low self-esteem and aren't happy. Instead of focusing on losing weight, aim to live a healthier life, live in the moment as much as possible, find things to fulfil you, look at emotional factors, and accept yourself as you are."
Who could argue with that? Shine! magazine highly recommends this book and at only just over £2.00 for a copy of the electronic version, it is an absolute bargain. Enjoy.
Links:
Buy Food Awakening – Nutrition For Now here – link
Julie Silver http://www.juliesilver.co.uk/