RELAX, ESCAPE AND STRETCH…Breathe Ibiza Yoga Retreat
Location: Cala Vadella in San Joseph (South West coast of Ibiza)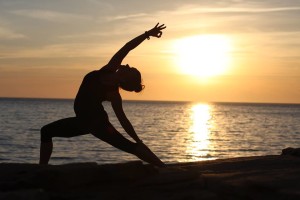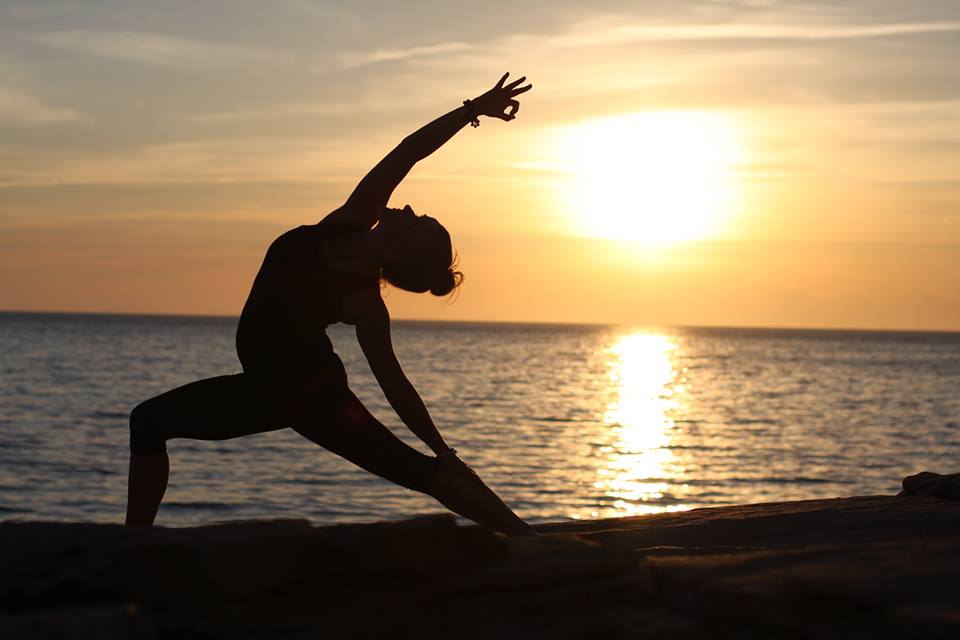 If you're thinking of getting away from it all then what better way than taking a yoga holiday alone (or bring a friend). I started taking trips like these about eight years ago and I've never looked back. I should add that back then I wasn't especially into yoga – I just needed a holiday in the sun to recharge my batteries, to hopefully feel/look a little better … and to meet some new friends.
Well, eight years on I am now totally passionate about retreat style holidays, especially yoga, pilates and creative ones. As a woman it is so empowering and sometimes life-changing to head off to a beautiful location and spend time with easy-going souls. It's a chance to do what I call a 'life audit' – where that time away gives you a new persective on pretty much everything.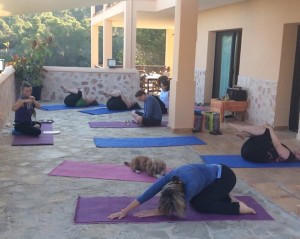 So, with this in mind, I decided on a Breathe Ibiza Yoga Retreat with top yoga/pilates instructor and all round wonderful soul, Rachel Spain. As a journalist, I've been fortunate enough to have done a fair bit of travel writing over 18 years (for the likes of OK!, Grazia, The Guardian, Wedding Ideas etc) so I have become pretty clued up about locations, prices and getting the best out of a trip.
That's why I found the Breathe Ibiza Yoga Retreat package really appealing. Number one reason being that it's so well organised, uncomplicated and ticked all my wish-list: beautiful location, lovely accommodation, flexibility (you can do your own thing or head out for some fun the odd evening while being a saint in the day!) and is it affordable.
Another winning factor is Rachel herself – she is not one of those pompous yoga gurus who makes you feel inadequate if you can't do a 'downward dog' at 8 am in the morning! She is warm, incredibly patient and just tremendously welcoming and good fun.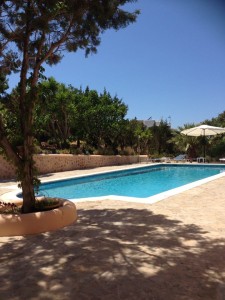 Rachel runs the retreats with her lovely musician husband Mike, with the 'assistance' of their incredibly cute dog Roni who kept us all delighted! The rooms are immaculate and very spacious (you generally share depending on numbers).
And the food is real holiday for your digestive system too – everything is vegan and raw (where possible). Breakfast even includes a lovely fresh green juice (containing health spirulina) so that we all at least start our days with great nutrition. If you end up having a naughty tapas lunch (at the amazingly good restaurant minutes from the villa) you do feel a little less guilty by having a healthy breakfast and supper at Rachel's!
The villa is in a great location and it's terrace and gorgeous pool, the perfect spot for watching some incredible sunsets after a day of stretching, yoga, swimming, walking and pilates… and generally feeling great.
There is a max of 8 people on each of the retreats, which run presently three times a year – generally during June and September. The classes are fun, flowing and can be taken outside which is a real treat – no stuffy studios here.
Your day will begin with an energising vinyassa and 'Pilates Flow' session in the morning after which you can help yourself to a simple breakfast of cereals, fruit salad, toast, tea, coffee (yes, it's allowed!). The afternoons may find you exploring the island, lying on the beach or simply relaxing by the pool with a good book.
The second class of the day takes place before sunset and is a great way to relax before supper. One day of the holiday has a single morning session so that the rest of day and evening is yours to explore the island or relax in the local area. I enjoyed an evening with some fellow ladies on the retreat and headed in to San Antonio for a total contrast with its bars and nightlife.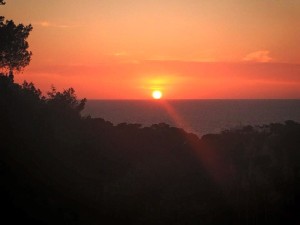 I highly recommend this retreat – especially for first-timer solo travellers or for friends/couples who want a gentle break. The location is heavenly and it was great to truly escape the hustle and stress of our lives back home.
For those wishing to take life down a gear or five, a Breathe Ibiza Yoga Retreat will leave you both rested but inspired too – mind, body and soul. www.rachelyogaandpilates.com
What's included:
5 nights board
7 classes
Breakfast (simple help yourself breakfast)
Evening vegan meal
Herbal teas, water and fruit available all day
Shuttle runs to and from the beach (if you don't fancy walking)
Spacious twin room with walk-in wardrobe, en suite bathroom and balcony
Bath and beach towels provided
Wi-fi access
Pool and Sunbeds
(Lunches not included but there is a great tapas restaurant and supermarket 5 minutes walk away)
Not included: Flights, airport transfers, health and travel insurance
There are some great flight deals around so do a bit of research on the price comparison sites. I found a bargain with Jet 2 from Manchester but also found some reasonable flights with Ryanair and Monarch. Do shop around.
Email: info@rachelyogaandpilates.com Phone: 00 34 685 208 267 Ibiza – 00 44 (0) 7771 588694 London
Check out this video of Calla Vadella too: