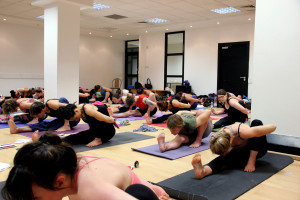 It's new year and for many of us that means taking a look at our lifestyle and health and perhaps finally committing to making some positive changes. However, for so many of us time is a huge issue. Work and family commitments often mean that exercise, dedicated stress management and 'me time' has to take a back seat.
But there is good news for residents, workers and visitors to Manchester (UK). A new express yoga studio has opened (13 January 2014) headed up by one the UK's top Ashtanga yoga teachers, Matt Ryan. It is based at Studio 25 on Church Street in the trendy Northern Quarter district – very handy for office workers, students and shoppers!
Yoga Express Manchester
The concept behind Yoga Express Manchester is to allow those new to and experienced in yoga to enjoy a compact Ashtanga class (45 mins long, instead of the usual 90 mins) at a convenient time to fit in a typical working day schedule. The timetable works so that you can fit in a class before work, at lunchtime or after work, depending on your working day. So far, there is a class a day and the time-table will grow as numbers and the popularity of time-slots increases.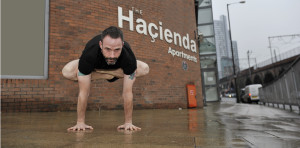 It's a very convenient and pardon the pun 'flexible' way of getting the benefits of yoga while incorporating it into a busy day or while you are out and about in the city centre. Shine! magazine editor Collette Walsh spoke with the brains behind the Yoga Express Manchester concept, Matt Ryan. Matt, who was once a top DJ at the city's famous Hacienda night club back in the day, is also the founder of the very successful Yoga Manchester – which offers Ashtanga yoga at various sites around the city and its suburbs.
"Encouraging people to take up and practice yoga regularly is really important to me," says Matt. "I'm very aware of the benefits of a full 90-minute classic Ashtanga yoga class but not everyone can fit in that amount of time and commitment into their working lives.
"What we've done with Express Yoga Manchester is ensure that the key postures remain in the 45-minute express sequence so that it still feels invigorating but with the advantage that you can fit a class in during your lunch hour or before and after work."

We will be doing a yoga teacher profile on Matt in the coming weeks, but check out below Matt's summary below of the key benefits of Express Yoga:
Physical Benefits
The physical benefits of a regular practice are but not limited to:
Increased strength throughout the body
Repairing left/right imbalances
Preventing back problems
Assist weight loss
Increase muscle tone
Develop deep core strength
Decrease high blood pressure
Improved digestion and elimination
Mental Benefits
The mental benefits of a regular practice are but not limited to:
Improved concentration and memory
Reduced stress and resulting physical tension
Improved sleep patterns
Clarity of perception
Whether you're an active gym goer or someone with little physical activity, you can be rest assured that Yoga Express will work with your own individual needs.
For more information go to:
Yoga Express Manchester's website here – http://yogaexpressmanchester.co.uk/

Yoga Express Manchester is at Studio 25, Church Street, Northern Quarter, Manchester, M4 1PE.
Call Matt Ryan on 07983 605 295.
PS. We love this video illustrating how handy Yoga Express Manchester is: