Discover the key to better beauty sleep, at 37 thousand feet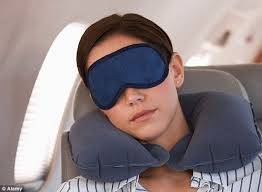 As regular travellers on Shine! the team do a fair bit of both short and long haul flying. As hardy and excited as we are to visit new places, ensuring a good sleep when flying can often feel impossible. Add to that the hope (dream!) of waking up not looking like a battered scarecrow would be something we'd certainly welcome.
Thankfully there are some handy tips that Hairburst – the makers of the magical Mulberry Silk Pillow case – have devised that we have to agree are spot on! As Shine's editor I recently flew long haul to Mauritius and short haul to Geneva and put the famous silk pillow and tips to the test. Continues below image…
Can a silk pillow case really prevent hair breakage and sustain skin moisture?
With a head of thick curly hair and prone to dry skin patches, I wanted to test for real if the elegant silk pillow case's claims of preventing hair fall, split ends and hair breakage, as well as retaining moisture are true. Likewise, the Mulberry Silk Pillow promises to prevent morning creases on your skin and will help to reduce puffiness and retain hydration when flying.
I promptly opened my silk pillow case's box and covered my travel pillow (yep I have my fave pillow with on long flights) – it's a mini pillow not a standard size so I just folded the excess silk case edges over. Have to say this is one elegant and very pretty pillow case – it feels like a treat to use and kind o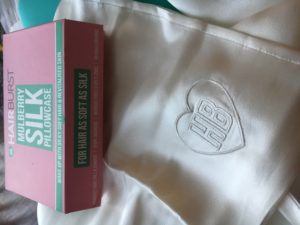 f glamorous. I just bet Mariah Carey and Jo Lo own one!
So, off I snoozed eventually (after following their tips – see below) totally expecting my hair to wild and frizzy on waking up as usual. To my amazement, my hair was NOT at all resembling the crazed cave woman look I normally get from being cooped up on a flight!
It was genuinely soft and the blow dry I had done a couple of days before, still smooth. More reassuringly, my skin didn't have that dehydrated feel with attractive pressure creases that I usually get. It really is a little bit of magical travel beauty kit!
Oh yes, the tips. Make a note of this handy travel and sleep advice from the guys at Hairburst:
Preparation is key –pack your hand luggage the day before your trip, popping your silk pillow on top
Snuggle up with a good book or movie pre-sleep
Put on some relaxing music to help you drift off
Take a walk up and down the cabin, ensuring you get a good stretch pre-sleep
Avoid eating a large, late-evening meal – and heavy, fatty foods before going to bed. If you cannot help eating late, give your digestion a helping hand with some Peppermint Oil Capsules or Aloe Vera Capsules
Aromatherapy promotes calmness and tranquility – spray a little lavender around your seat (ensuring the bottle is under 100ml)
Remove your makeup with disposable wipes and lather on your favourite moistuser or hydration spray
Pop your Hairburst Mulberry Silk Pillow on your plane issued pillow – not only will it aid restful sleep, it's your secret beauty weapon for waking up revitalised, frizz-free and fresh
Find a comfortable position – research shows this to be leaning against the window with your pillow, or laying your pillow on the tray table in front of you
Your space ideally needs to be dark, quiet and kept at a temperature of between 18C and 24C. Blowe your air conditioning towards you, and pop on your favourite silk blend eye mask
The Hairburst Mulberry Silk Pillow £34.99 is available now from www.hairburst.com