If you've never skied before, Les Saisies in the French Alps is the perfect destination, says Shine's travel blogger Nikki Clarke. Here's our intrepid Nikki's account of hitting the slopes for the first time (and aged over 40!). Guess what? She loved it and has got the skiing bug… read more about her snow adventures in this beautiful, world-class ski resort.
It's Never Too Late to Learn to Ski and Why I'll be Coming Back to Les Saisies – by Nikki Clarke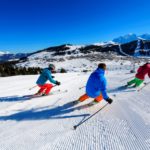 Nikki says: "Having spent a huge proportion of my life overseas in a warm climate the opportunity to ski had never presented itself, so when Les Saisies kindly invited me to their alpine ski resort for the weekend to try my hand at skiing, I grabbed the opportunity. After all it is never too late to learn a new skill.
Les Saisies is a stunning picturesque village in France approximately 55km from Chamonix with direct flights into Chambery, Geneva and Grenoble operated by Jet 2 ( jet2.com) and Easy jet ( easyjet.com). A family-friendly resort that is home to Olympic Super- G champion winner Franck Piccard and his famous ski school and shop – see: Franck Piccard School.
Day 1. Snow! A magical sight as I arrive into a winter wonderland…
After touching down at Geneva airport I was then transported to this magical resort by road and became immediately enchanted by it's spectacular scenery, the snow covered  mountains of Mont Blanc and the surrounding villages, I was hooked and ready for my adventure to begin.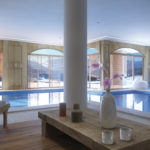 After arriving at my accommodation, Les Chalet D'Emeraude (www.vacances-lagrange.com)  a pretty resort conveniently located within walking distance of the boutiques, cafes, ski hire and the slopes. I was informed by the concierge that this had been Les Saisies best ski season in years.
Lunch that afternoon was at Restaurant – Bar Le 1650 ( www.signal-lessaisies.com) serving traditional French and modern specialities include Diots au Vin Blanc (French sausages) and Raclette (melted sweet cheese served with meat and vegetables ) I opted for the fondue  which was very tasty with a local beer.
As the afternoon approaches Iam very aware of what is next, my ski kit fitting. This moment conjures up memories of my first proper shoe fitting at Clarke's shoe shop, where I felt so grown up at the time. Arriving at Piccard Sports ( piccardsports.com) you are welcomed by the most wonderful staff who all seem to look like they have stepped off a catwalk but also have tremendous knowledge and dedication.
Having stepped into skis for the first time I felt like a storm trooper out of Star Wars as I attempted to move around the shop, I felt reassured with the support of the boots especially on my ankles (always good to know in case you fall). Next was the ski's, poles and finally the helmet. It is so important to purchase a pair of good ski socks to protect your shins.
After an hour in the resort's spa and sauna my appetite had been sufficiently wetted for dinner at le Calgary (www.hotelcalgary.com).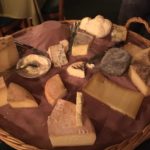 Le Calgary is a family run boutique hotel and restaurant which offers diners a choice of various dining options, I chose the taster menu which consisted of 5 dishes all cooked to perfection but my favourite course was the enormous cheese platter which is served before dessert, a local beaufort cheese from the county of Savoie is a must.
Day 2. Hitting the slopes!
As an adult learning to ski for the first time the only way to progress is to mess up. That's why children pick up the sport more easily than adults. Let's be brutally honest here my fear is of falling over and hurting myself. I was advised to break skiing into 4 core elements -balance, body position, pressure, stance.
My fears dissolved when I met my instructor for the day Huguette, a local lady who was patient and above all made me feel safe. Starting on the nursery slopes I focused my attention on looking ahead, trying not to be distracted by 3 and 4 year old children speeding past me! The most important tool and word you will never forget is Snow Plough. This is learning to stop. If you can master this  skill you are on your way to enjoying this wonderful outdoor sport.
Huguette thought my companion and I were capable of progressing to the next level so up the ski lift we went and before we knew it were gently making our way down a green run. I can't tell you how thrilled I was to reach the bottom of the mountain and ski to lunch at Le Chalet Des Marmottes (www.chalet-des-marmottes.com) the owner is like a comedian who entertained and fed me with beautiful food, I have never tasted Quiche Lorraine like it and his selection of local wines is quite extensive. The shot he gave me after lunch gave me the confidence to ski back to base (slowly).
Women like to feel cherished and I certainly did when I arrived for dinner at La Table Des Armallis (www.villagelesarmillis.fr) lush and modern but with a cosy décor, this newly opened gourmet restaurant is the brainchild of Michelin star chef Laurent Peugeot serving food with great imagination.
After a welcome glass of champagne, I was treated to beetroot marshmallow, sushi, mushroom ravioli, serrano ham with a beetroot crust to pork with a celery spaghetti and finally cheese, dessert and petit fours all paired with wines from the restaurant's extensive cellar.
Day 3. Finding my 'ski feet' – cross country skiing, rifle-shooting and Biathlon!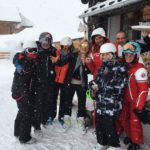 After breakfast my final activity for the trip was cross country skiing and rifle shooting, a winter Olympic sport called The Biathlon which would be taught by my instructor Cedric Bernard who teaches this sport to professionals. I found cross country skiing more challenging than downhill skiing but did enjoy the rifle shooting and got to shoot Olympic targets too so a really fun day, the hardest part was walking up the hill.
I finished my spectacular day at a local delicatessen mingling with the locals enjoying their hot chocolate and patisseries before making my way back to Geneva airport back home.
Final thoughts…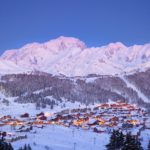 Les Saisies offers the novice skier a place to start but has many slopes catering to all levels from intermediates to black runs. A town confident of its heritage, culture and gastronomy.
Franck Piccard has been instrumental in supporting the Espace Diamant project to link Les Saisies to 5 nearby resorts expanding the skiing potential in the area to 200km of slopes.
I certainly will be back – once you find a place that makes skiiing so much fun and welcoming, it is impossible not to catch the 'ski bug'.  Nikki x
Find out more about Les Saisies here at the official website: www.lessaisies.com
Check list for first time skiers:
Ski socks
Snow boots
Salopettes
Ski jacket with plenty of pockets for ski pass, phone
Merino wool tops
Layered clothing
Waterproof wool hat
Ski googles
Mobile phone charger (the battery soon goes in the cold)
Snacks for your pocket
Sun tan lotion
Lip salve
Scarf and gloves
Bag for clothing
The 2018 Winter Olympics starts on 9th February.
Images credit: Patrick Somelet
Reportage and video: Nikki Clarke