RAISHMA SHOWS HER A/W17 COLLECTION AT LONDON FASHION WEEK
This week sees the debut of designer Raishma's Autumn Winter 2017 collection at London Fashion Week, at the House of iKon's annual show.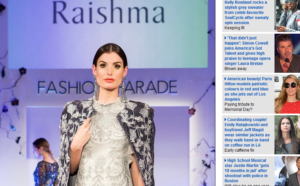 Raishma's Autumn/Winter 2016 collection reveals an ethereal tone throughout. The concept behind the collection was inspired by an Ice Queen theme. Raishma's stunning designs encapsulate femininity and beauty with a cool colour palette, reinforcing the inspiration and influence of the collection. Hues of icy blues, cold greys and stark ivory veiled over rich luxurious velvets, delicate silks and lace. The contradiction of heavy and soft fabrics are complimented with flattering colours and clean-cut silhouettes.
Transparent overlays, silk embossed fabrics and intricate hand embroidery are the key motifs exhibited throughout this collection. Precise, complex thread and bead work portray the unique and distinctive appeal of Raishma's designs. Garments are accessorised with extravagant head-wear by Lisa Jayne Millinery transforming each model into their inner ice queen character.
Her elegant evening gowns and cocktail dresses display delicacy, while the indulgent capes and brocade jackets matched with trousers, showed opulence. The versatile garments work together seamlessly as a collective, yet are strong enough as stand-alone pieces that can add a hint of glamour into any woman's wardrobe.
London Fashion Week 2016
The House of Ikons show was founded by Prince's Trust Ambassador Savita Kaye with proceeds raised going to support up and coming fashion talent in the UK.