We love a women in business success story on Shine! and so we were delighted to pop along to the launch of make-up artist and all-round gorgeous dynamo Lynette Page's new cosmetics range.
The talented mother-of-three has developed her own make-up collection and combined this with the opening of her first make-up boutique based in pretty Knutsford, Cheshire.
Not many make-up artists can claim to have their own brand of brilliantly devised bases (foundations), liptsticks, eye-shadows and so on.
But after years as a top professional in the world of make-up artistry, Lynette decided to develop her own line of products – something most make-up artists can only dream of.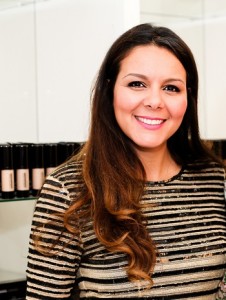 However, Lynette is clearly not just 'a pretty face' – she's a smart and sassy businesswoman who has worked very hard to achieve her success.
"I've used so many of the top brands over the years so I really knew the products on the market inside out," Lynette told Shine!. "I kept thinking, I could do with a range that is based simply on how I apply and bring out a client's best features – be it brightening their skin tone, lifting their eyes and so on.
Lynette adds: "When you train professionally, you develop an eye for what kind of skin pigmentation a client has – warm or cool. This is the foundation to creating a really great face and so I sat down and started researching the best ingredients and processes of manufacturing great make-up with the 'warm or cool' principle as the basis of what I wanted to create.
"Applying makeup is a joy for me and I believe every woman should feel the same about their makeup regime. We've created a line of cosmetics that take the guess work out of choosing the right products. No-more cluttered makeup bags, just the right shades, tones and textures made only for you."
Two years on from starting her research and a sophisticated brand design later, Lynette has now launched her personal range at her stylish and very friendly Minshull Street boutique in Knutsford's town centre (Cheshire, UK).
The response so far has been terrific with new and old clients loving the concept of a salon purely dedicated to make-up.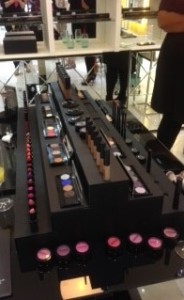 It's a clever idea – similar to the blow dry bars of New York and LA – you enter the Lynette Page make-up salon and from her make-up menu (a lovely hard-back book with superb photography) choose a 'look' that you wish to go for.
There is everything from smokey-eyed, Hollywood glamour and red carpet and 'night out' looks, to sophisticated business meeting make-up, for those who want to look their best at an important day time event.
Clients then sit back, with an optional glass of fizz, and let Lynette and her team of top make-up artists work their magic!
And it is magic – I had a mini-makeover and loved every minute. I turned up at the salon pretty make-up free and was getting over a rotten cold and certainly not feeling very glam!
The Lynette Page range is made up of a pro-formula without parabens or sulphates and is highly pigmented for professional use which appeals to me as the less chemicals the better – always.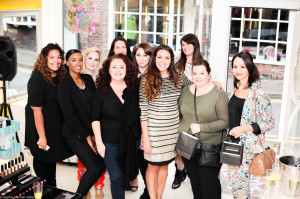 Thirty minutes later, after Lynette had devised that I had a 'cool' pigmentation, I was rocking a really flattering and subtle look – which included a lip colour I'd have never thought of trying before called Reality.
Later, at a party, I had lots of people compliment me on my make-up and how great my skin looked – result!
So, good luck to Lynette and her team – a great idea and concept realised.
Website: www.lpartistry.co.uk
More information: The Lynette Page boutique also houses the established Lynette Page Training Academy.
The Lynette Page flagship beauty boutique is at 4 Minshull Street, Knutsford, WA16-6HG.
To make an appointment call 01565650825 or email info@lpartistry.co.uk.
To purchase products online, for opening hours and more information visit http://www.lpartistry.co.uk.
On Twitter follow @lynettepage and Facebook Lynette Page Makeup Artistry Studio.