Book review: The Life That Woke Me Up Was My Own by Nancy Swisher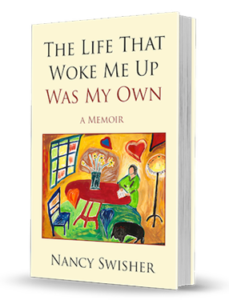 I first met Nancy Swisher four years ago at a point in my life when I felt, well to be honest, lost. I was seeking answers to why my life had become really quite difficult. Sorrow and loss were making a big presence in my once bright, light and optimistic outlook.
This led me on a pretty intensive journey into coming to peace with my loss (the death of my late husband) but most importantly discovering my own truth.
Like so many seekers I spent a hell of  a long time on the internet researching courses, books, gurus and guides! I wasted a lot of time and money. That is until I stumble across Inner Bonding and one of its leading practitioners, Nancy.
Now, Nancy has written her memoirs and I was delighted to get a review copy of her book, The Life That Woke Me Up Was My Own.
She says:"When I write, I am required to sit here, many times uncertain where to go next. Not that I don't know the story. I do. But the context for the story has to do not only with the time-space dimension I live in, but with the eternal part of my Being also. With what I call the horizontal axis and the vertical axis."
-from The Life That Woke Me Up Was My Own