Shine's travel editor Nikki Clarke headed to possibly one of the most beautiful cities in Europe – Porto – to discover what it has to offer for the romantic traveller.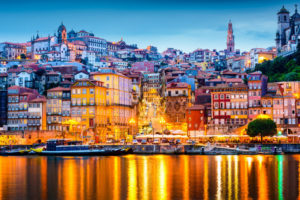 Could Porto be the next big destination for an impressive European wedding? As Nikki Clarke discovered, not only is Porto perfect for weddings and honeymoons, it's also packed with exquisite art, food, architecture, wine (port) and some of the most breathtaking scenery she has experienced.
Why Porto has so much to offer for weddings, romance and a magical honeymoon – by travel editor Nikki Clarke:
'"Fancy a trip  to Porto?", my editor gleefully asked me. "Porto? Where they make port? Count me in!" I replied.
Porto is Portugal's second largest city which captures the romance of Italy with its wine and fine food but is the only place you can taste a huge variety of its Ports, a hidden gem.
The famous Freixo Palace Hotel  – heaven on earth!
My hotel location was the 5 Star Freixo Palace hotel, I felt like I was reliving a fairy tale wandering the halls of this former palace with its fine antiques, crystal chandeliers and infinity pool looking onto the Duoro river. A welcome glass of Port and large staterooms all with river views I could get used to this standard of living.
The attention to detail is superb and if I was planning my wedding or honeymoon here I was feel exceptionally reassured that my day would be perfect. (www.pestana.com)
Porto city – why it oozes culture, class and heritage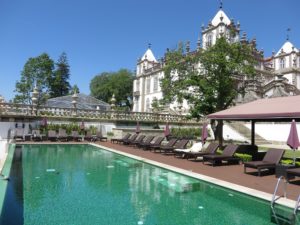 The historical city of Porto which was named a Unesco World Heritage Site in 1996 offers the hustle and bustle of a small city but with enough room to explore its beauty without large crowds. You must peek into the famous Livraria Lello, considered the 3rd most beautiful book shop in the world, a place of reflection for JK Rowling in her early years, any minute I was waiting for Harry Potter to appear. (www.livrarialello.pt)
Whilst continuing in the romance of this city Palacio Da Bolsa struck a chord in my heart. If history is your thing this building with its rich guilt features, high ceilings and elaborate fixtures is perfect for a princess to enjoy the long winding marble staircase, pop your head into the Arab room and you will be transported to by gone days with its rich architecture. You can book in for a romantic wine tasting for 2 here tucked safely away from civilisation. (www.palaciodabolsa.com)
Gastronomy – Porto's food and wine is world class
Time for a pit stop after all this cityscape, a favourite eatery of mine is DOP, nestled in the bustle of Porto but with a great vantage point for people watching but discreet with tasteful décor. Owner and self – taught Chef Rui Paula is well known for his diverse range of dishes, you must try the delicate Cod, Octopus and Veal which all contribute to Portugal's gastronomic culture. (www.ruipaula.pt)
If its peace and quiet you crave after a busy day, step back in time hand in hand through the magical fairy tale that are the Rose Gardens in Fundaco Serraves influenced by French gardens they sit near the Rose Art Deco style house. To further your romantic exploring do stop for tea and cake in the gardens. (www.serralves.pt)
A romantic river boat cruise – perfect for couples and creating memories
A few days into my trip through Porto, I was invited to breakfast on a luxury Yacht which explores the beauty of Porto from the river whilst enjoying a traditional Portuguese breakfast. Admire the 6 constructed bridges by boat, Porto is the only city that has 6, one of which was constructed by Gustance Eiffel, another romantic antedote to the romance of Porto. (www.dourocharter.com)
Port wine tastings – an absolute must for any traveller to Porto
For a couple exploring this city, Taylors does exceed expectations. Considered by Wine authorities to be the greatest of all port shippers and still family owned this is an exceptional experience. I felt so privileged to visit the lodges and the cellars.  The museum provides invaluable information featuring film, images and various exhibits, you must try opening a bottle of Taylors port with tongs and finish your tour with your very own tasting.
Taylors Restaurant offers spectacular view of Porto by night and has a fantastic restaurant Barao De Fladgate (www.taylor.pt). For an Aperitif or a late cocktail stroll across the road to The Yeatman. (www.the-yeatman-hotel.com)
The Duoro Valley – breathtaking views and an experience that will make your trip
The Duoro Valley could easily be called the enchanted Valley, such is the beauty and magic that its landscapes offer. My final two days came to an end in this special location with 2 further visits.
Hotel Monverde – The Wine Experience Hotel, a family run Quinta da Lixa Winery. My day began in the spa treated to a massage using oils mixed with local wine, what a treat. After a quick cool off in the pool, I was ready for The Tasting menu paired with the estates own wines. A quick zip in a golf buggy saw me exploring the 30 hectares and peeking into the eco friendly  rooms with bath tubs overlooking the vines. (www.monverde.pt).
My final day brought me to a Port lovers paradise Quinta De Pacheca. A large Quinta with 51 acres of vineyards boasting a huge entertainment area perfect for a wedding with 5 Star appeal, everything is taken care for you here from accommodation, dining, entertainment, design and floral. As guests of the hotel we were treated to a luxury Port tasting in the houses private tasting lodge. The hotel can also prepare a luxury picnic whilst you are exploring the Duoro or why not attend a cookery school. If you do decide to stay in one of the rooms, book dinner in the hotel's restaurant, the food is delicious especially the seafood and the chocolate fondant is heaven in a pot. (www.quintadapacheca.com).
For tasty treats to take back home Arcadia chocolates (www.arcadia.pt) or pick up a pretty decorated can of sardines at the airport or choice Port.
For more information about wedding and travel in Porto go to: VisitPortugal and Porto & Norte Tourism Board