By Shine! mag editor Collette Walsh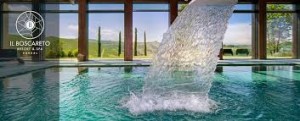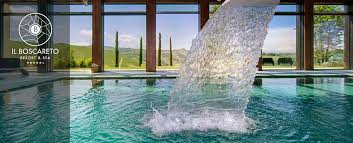 Over the coming weeks we will be highlighting the very best of Europe's spa resorts and hotels. We start with one of the most beautiful and impressive of the spas our team have visited in the last year – the five star Il Boscareto Resort and Spa, located in stunning Serralunga D'alba in the Cuneo area of Piemonte, Italy.
Excellence, style and glamour… Il Boscareto has it all
On arriving at the Il Boscareto Resort, it is clear that this state of art, contemporary and very exclusive resort is in a league of its own. During my travels around the region of Piemonte I visited and inspected several other luxury hotels and spas, but Il Boscareto stood out among them all. It is, quite simply, sensational.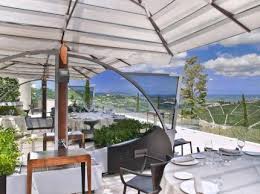 There are views and then there are the views from this resort… Seriously, it is breath-taking! My companion Paula and I drove from Alba (the very pretty historical city that is famed for its truffles) up to Serralunga D'alba and found ourselves constantly gasping at the wonderful scenery the higher we got.
We drove through the elegant entrance of Il Boscareto and found that there was a private wedding taking place on the premises. It was clear from the array of Ferrari, Porsche and Maserati cars in the car park that this five star luxury hotel, restaurant and spa resort certainly attracts the most discerning and sophisticated traveller.
If you are a food and wine lover, look no further. Indeed, the cantina (wine cellar) at Il Boscareto boasts some of the most prized wines to be had in the region (which is among the best in the world for its produce). The restaurant is led by top chef Antonino Cannavacciuolo, the two Michelin starred chef of Villa Crespi and star of Cucine da Incubo on Fox Life. Antonio and his team bring a perfect balance of traditional and contemporary Italian cuisine.
Excellent service and a friendly ambience…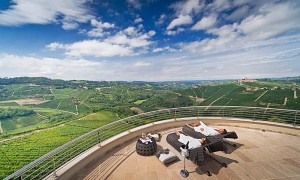 However, despite its sophistication and luxury, the ambience at Il Boscareto is warm, friendly and unpretentious. From the moment we arrived for our spa experience, we were treated with incredible courtesy and thoughtfulness by all staff – notably, direttore generale – Mario Villani. Mario and his team truly go that extra mile to ensure that all guests have a wonderful stay. Standards are very high and excellence in all areas – the food, wine, atmosphere, decor and staff is truly maintained. As an exclusive five-star resort, expect a wonderful, restful stay. The rooms are refreshingly modern and stylish – which for international travellers is made all the better by possibly some of the best views to be had in northern Italy right outside your window.
A world-class spa…
The spa facilities are superb and a tremendous amount of investment and good taste has ensured that facilities are among the very best to be found. We enjoyed the indoor, state of art hydrotherapy pools, sauna/steam rooms (excellent) and of course the spectacular views across the Serralunga D'Alba valleys with their beautiful vinyards and churches. The view here alone is a tonic and good for the soul!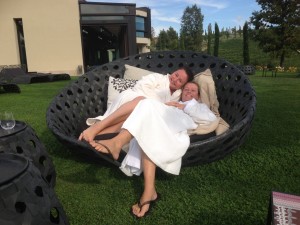 After a lazy rest on the outdoor loungers, we got dressed and joined fellow residents in the outdoor restaurant and bar where, once again, we were blown away with level of service and of course, the bella vista.
We highly recommend Il Boscareto – it has everything – from exquisite accommodation, the best in food and wine, as well as being one of our top five spas in Italy. It is indeed, perfetto.
For further information and to book a stay here: www.ilboscaretoresort.it
Il Boscareto Resort & Spa
Via Roddino, 21
12050 Serralunga d'Alba
Cuneo – Italia
Ph. +39.0173.613036
Fax +39.0173.613041
info@ilboscaretoresort.it
GPS: N 44.59463 E 7.99983
Telephone: