Janjira Grapefruit and Tangerine Therapy Massage Candle
To receive the Shine loves! accolade our team has some very stringent criteria: we have to love the quality, the value, the design and of course, the effects!
These days we have so many new candles and aromas to choose from that it pays to shop around and avoid cheap aroma candles that have been made from very few natural ingredients and with short-lived fragrance.
When we received a Janjira Grapefruit and Tangerine Therapy Massage Candle, our eyes and noses were instantly enticed. The fragrance is simply divine. Talk about bringing the scent of summer indoors!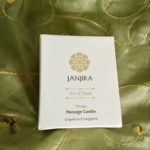 To test it, I brought it home and, as advised on the packaging, lit for a while until the soybean, beeswax and coconut oil base melted. As it did the ambience of my bedroom was elevated with lovely aromas, waking up all the senses.
Then, using the clever spout on the candle's beaker, I gently poured the melted oil into my cupped hand and began massaging it into my dryest spots, knees, hands, feet and elbows. The oil can even be used on the face.
I've been using it now for four weeks and still have some precious massage wax in the pot! Best of all my bedroom smells like a sweet summer fruit orchard and everyone who comes upstairs asks: "Oh, what's that lovely smell?"
I certainly give it the Shine Loves seal of approval!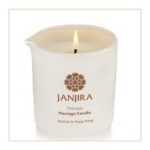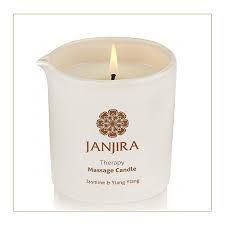 Janjira tell us that the Grapefruit & Tangerine Massage Candle (RRP£32) helps you to unwind and soothes your senses. The rich aroma of the Grapefruit and Tangerine rejuvenates the senses whilst the warm oil is absorbed efficiently into the skin, making it feel nourished and supple. Beeswax and Coconut oil protect and soften the skin.
Benefits:
– Softens and smoothes skin
– Maintains skins moisture balance
– Grapefruit, Tangerine and Rhubarb scent
– Can be used as a massage oil, body oil, moisturiser or facial oil
– Creates a beautiful, relaxing atmosphere
Key Ingredients:
Soybean Oil – Provides essential fatty acids, proteins and vitamin E that help to promote and restore the skin's moisture balance.
Coconut Oil – Helps to restore the skins moisture.
To find out more about the Janjira Thai Spa beauty products range to go: www.janjira.co.uk