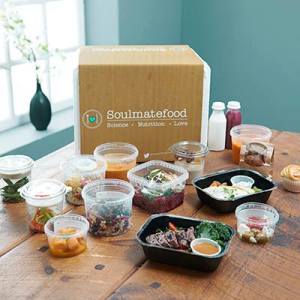 Eating well is one the best things we can do for our body, mind and soul. But let's be honest, even the most dedicated healthy eating champion has their weak spots – be it chocolate, booze (a glass of wine or beer that turns into three or four!) or old fashioned comfort foods – bread, cakes, puddings, cheesey pasta, creamy sauces…
Our other weak spots can be time and organisation – not all of us have the capacity to cook really nutritious meals three times a day, week in week out. It requires organisation, headspace (what to have??), regular shopping trips for fresh foods, then the prep and of course the cooking (and cleaning up!).
Having interviewed many nutritionists over the years, the consistent message I get from them is to find a balance – aim to eat healthily about 80 per cent of the time and to still have the occassional treat, as this way there isn't that sense of deprivation or punishment.
It makes sense, but as a busy journalist and media professional, I am sometimes aware that in a day I have missed some key meals or opted for an unhealthy snack when I could have easily opted for an apple or some protein packed nuts/seeds.
That's why it's just better to stop, take a good honest look at your pantry, fridge, food cupboards and take an audit. It's a false economy if you are someone who ends up spending a lot of money on processed or junk food to then stock up on fruit and veg out of guilt …which is often not consumed (and is tipped into the compost bin).

Soulmate Food…
A brilliant solution for anyone who would love to stop the madness of wasting food, money and time on trying to keep on top of eating healthily but is just too busy, too confused with all the mixed messages on nutrition/diet, or who simply is just in need of a kickstart in re-educating themselves in eating well again, is the brilliant home delivery concept called Soulmate Foods.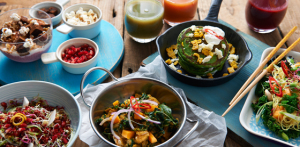 The idea behind Soulmate Food is that they tailor your nutritional needs and goals into a week's supply of fabulous (yes, these are really tasty dishes and snacks), fresh and healthy meals. You basically choose a programme from their menu options that suit your lifestyle and needs. Everything is covered: low carb, Paleo, fibre-rich, vegan/veggie – there is even a juice programme that's incredibly popular for those wishing to detox and lose a few pounds.
It sounded like heaven to me… the idea of someone creating a menu of delicious, ready to eat or heat breakfasts, lunches and suppers (plus healthy fresh snacks too) and all delivered to my door. No shopping, no chopping, peeling veg, no rushing home to get the dinner on and best of all… no washing up! (Well, very little).
My one week trial
After a simple consultation online with one of the team from Soulmate Food (very convenient) I decided I wanted a low-carb menu but with no red meat as I am not a fan. My goal? To kickstart eating healthily consistently for a week, to possibly lose a little weight but overall to feed my body well and regularly.
I have to say that when my first SoulMate Food delivery arrived (there are loads of convenient options for delivery times by the way and usually two fresh deliveries per weekly order) I was soooo excited. The box was big! Really cool packaging and everything packed brilliantly.
My first three days' of meals included some truly mouthwatering options – terriyaki salmon with a fab crunch stir fry, a chia and berry yogurt, healthy fritata slices with salad (delicious!) the list goes on… Basically, really good quality, freshly made meals that don't go yucky when reheated (unlike a ready meal). All are designed by a team of nutritionists and made as locally as possible to ensure freshness. The meals are made to look good and appetising – which they certainly do.
Take a look at just some of the delicious Soulmate Food meals I enjoyed here – slideshow:

Conclusion: I ate so incredibly well that I could feel the difference after my week trial – my sugar cravings dropped, my sleep improved, my energy increased and my tummy was suprisingly flatter! i lost four pounds – brilliant and I wasn't even on a 'diet' – just eating healthy, balanced, yummy meals. By the way, I was amazed at the volume of variety and the fantastic portions – some days I wondered if I could really eat all the items on my menu list for that day.
Best of all, considering the week of my trial coincided with a new training course and a seriously busy week at work, I was able to enjoy my evenings knowing that my healthy, balanced supper was sorted (as was breakfast and lunch – Soulmate Food will include lunch options for people on the go and not able to re-heat – everything is covered).
Home delivered, delicious, healthy eating at this level is also good value – think about the time, money and energy you save by ensuring your weekly meals are all planned based on what goal you have in mind for that week – be it getting healthier, adding more veg and fruit to your diet, less fat, low-carbing or boosting your workout with a Paleo or clean eating menu?
For me, it was a real luxury and a very positive experience – I wish I could eat like that every week (many do) – I'd certainly consider incorporating a Soulmate Food week into my lifestyle during busy periods or when I need a boost in my healthy eating commitments.
More information and to order: www.soulmatefood.com call: 0870 8033 833



Review by Shine editor, Collette Walsh