Why you MUST visit Dundee in bonny Scotland this year…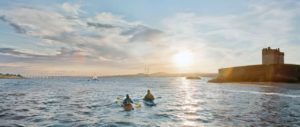 Dundee is the place to be in 2018. Don't just take our word for it – global influencers as varied as the Wall Street Journal, National Geographic Travel Magazine, and CNN have highlighted Dundee as one of this year's must-see destinations.
The headline event will be the opening of the V&A Museum of Design on September 15, 2018. Dundee, the UK's only UNESCO City of Design, has secured its position as a new worldwide cultural powerhouse, but the city is already awash with unforgettable experiences.
EVENTS
V&A Museum of Design, Dundee
Opening its doors on Saturday, September 15, the building has emerged from the waterfront, already becoming a new architectural icon. We have admired the exterior but what will this Kengo Kuma designed building offer inside – it's time to find out. As well as the Scottish Design Galleries telling the story of Scotland's outsta
nding design heritage, there will be visiting exhibitions, with the spectacular Ocean Liners: Speed & Style for the opening.
Slessor Gardens
Dundee new public space has been warmly embraced by the citizens and now with the advent of massive outdoor gigs, visitors can experience the waterfront for themselves. The inaugural concerts happened in 2017 and this year Steps will play in June with the Grandslam of Simple Minds, The Pretenders, and KT Tunstall in September. More concerts to be announced.
Dundee Design Month
Following two years of highly successful Dundee Design Festivals each May, this city of Design has decided to dedicate a full month to the discipline it carries a UNESCO designation for. May in Dundee will be packed full of design exhibitions, shows, talks, workshops and events in venues across the city. An online programme will be available soon.
Maggie's Penguin Parade
Waddling in to town for ten weeks beginning in June, a colony of 80 painted penguin statues will stage the cutest invasion of Dundee's streets, parks and public areas. These sculptures will create a colourful art trail in aid of the Maggie's Cancer Care Centre. Dundee has long had an association with penguins. Penguins are the emblem of Captain Scott and Ernest Shackleton's 1901 expedition to the North Pole, with their Dundee built ship, RRS Discovery now an award-winning visitor attraction berthed at Dundee's waterfont.
The Open
The 147th Open Championship will be held at Carnoustie links from July 15 to 22, creating a buzz throughout Dundee and Angus. Carnoustie is a 25-minute drive from Dundee or just 14 minutes by train. This will be the eighth time Carnoustie has hosted the open with the most recent winner Padraig Harrington in 2007.
World Karate Championships
An estimated 4000 athletes, coaches, and supporters will be at Dundee's Ice Arena from June 12 to 17, for the 7th World Union of Karate Federations (WUKF) World Karate Championships for All Ages.
TRAVEL and STAY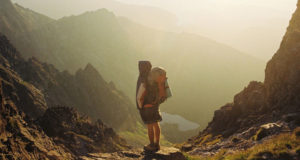 From boutique to budget, the range of accommodation in Dundee is expanding, with more than 1200 hotel beds expected to be ready to welcome visitors by the end of 2018.
Joining the likes of Malmaison, APEX, Holiday Inn Express and the recently opened Hampton by Hilton is a new hotel by Indigo, part of the InterContinental Hotel Group. This will transform a former jute mill into a 102-bedroom hotel with 12 junior suites scheduled to open in June.
Dundee's new train station is due to open in March following a £14m renovation, with the 120-bed Sleeperz hotel above opening in June. Close to the station on the waterfront, the refurbished Premier Inn has also reopened with an additional 60 bedrooms.
The sight of mighty cruise liners on the River Tay is becoming more common, and in 2018 more passengers than ever will disembark and explore the city. With 12 cruise ships due to visit, three during The Open Championship, there are potentially 19,000 more visitors.
NEW ATTRACTIONS
Dundee has many well-established and award-winning attractions such as the RRS Discovery, Verdant Works, and The McManus Museum and Art Gallery. Now these are being joined by a raft of cultural happenings, not all with permanent premises.
Many of these have grown organically from the creativity, playfulness, and ingenuity of a thriving creative community.
Dark Dundee offers entertaining and informative walking tours around the city, partnering with venues such as Verdant Works, HM Frigate Unicorn, and The Howff, a 16th century graveyard in the city centre, to tell spine-chilling tales of the city's sometimes gruesome past. The ideal way to explore the city after dark.
Street-art project OpenClose is typical of Dundee's creative community coming together to show some love for the city. An enterprising University of Dundee student noticed some neglected doors in the city centre's historic back streets and established a scheme to pair these unloved openings with local artists. Visitors can now download the trail or pick up a map from city centre outlets.
OpenClose is also extending into the Stobswell area of the city in 2018 with a call for participating artists coming soon.
Go Behind the Scenes in Dundee with a guided walking tour that has access all areas to the engine rooms of the city's creative venues. Developed by Creative Dundee and Dundee Contemporary Arts, the tour provides a backstage look at how cultural venues work, as well as visiting creative studios, independent shops, and public art.
Why walk when you can Run the Sights? Combine a run with a guided exploration of some of the city's most interesting and beautiful locations (where you get the chance to stop of course). Like a walking tour, you can reach places a tour bus can't but here you'll cover more ground!
See the city from the glorious River Tay with Pirate Boats, which offers an exhilarating one-hour boat trip packed with anecdotes and local lore to bring the scenery to life. Board in beautiful Broughty Ferry, just a ten-minute drive from the city centre and take in sights along the glorious waterfront from the ancient Broughty Castle to the sparkling new V&A building. There might also be some dolphins riding alongside for company between May and September.
Where else can an outdoors type wakeboard in the city centre? Catch some air with Foxlake, Dundee's new wakeboarding centre at City Quay. With its premises opposite the APEX Hotel and within sight of the HM Unicorn, lessons are available.
A CITY OF CULTURE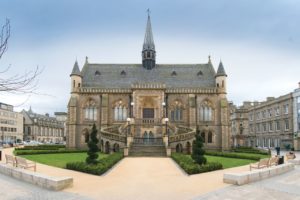 The only UK theatre to have its own repertory company, Dundee Rep is as innovative as ever this year, with new Artistic Director Andrew Panton inviting some of Scotland's most highly sought-after creative practitioners to work with the company on classic productions throughout the year such as Deathtrap, Spring Awakening, and Passing Places.
At Dundee Contemporary Arts (DCA) this year's programme of events includes the first major European show of work by Eve Fowler, the highly acclaimed American artist. Her show: what a slight. what a sound. what a universal shudder. is at DCA from June 9 To August 26. Based on her engagement with the words of Gertrude Stein over the past eight years, Fowler has created work centred on Stein's experimental writing practice, taking the form of posters, prints, billboards, paintings, and installations employing materials such as vinyl, neon, collage, print, painting and film.
Taking 2018 face on, The McManus presents a major show of portraiture. In Revealing Characters, from Saturday, January 27, and continuing throughout the year, the McManus's twentieth-century gallery examines the lasting fascination with the portrait in a range of styles. The temporary exhibition Face to Face, from January 27 to May 20 allows us to take a closer look at local faces, from Victorian times to the present day.
V&A Museum of Design, Dundee
The day we have been waiting for. The V&A Museum will be open for visitors on September 15. What can they expect? The permanent Scottish Design Galleries will contain objects from Charles Rennie Mackintosh's Oak Tea Room to an evening dress designed by Scots fashion designer Holly Fulton to a spectacular diamond-winged tiara commissioned from Cartier by Mary Crewe-Milnes, Duchess of Roxburghe. The opening exhibition will be Ocean Liners: Speed & Style. Organised by the V&A and the Peabody Essex Museum in Salem, Massachusetts, it explores the design and cultural impact of the ocean liner on an international scale. It will re-imagine the golden age of ocean travel and explore all aspects of ship design from the remarkable engineering, architecture and interiors to the opulent fashion and lifestyle on board.
FOOD AND DRINK
The choice of where to eat, drink, and party has exploded over the past few years. The restaurant scene has become more varied than ever before with a sprinkling of fine dining joining global cuisines and homegrown favourites like fish and chips.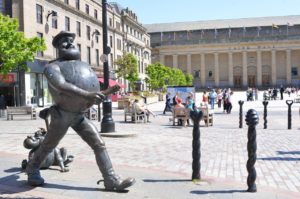 However, Dundee hasn't forgotten it's famous pie (pronounced peh in these parts). Desperate Dan, who dominates the High Street as an eight-foot high bronze statue, thrived on the local pies but just like Dan, the pie is striding into the 21st-century with local butcher Scott Brothers reviving the city's original street food with packaging and napkins telling the story of the Dundee Peh.
Local brewers and distillers are expanding their ranges and activity. Verdant Spirits, the first distillery in Dundee for 200 years, was named Scottish Gin of the Year in 2017, Now there are plans to open a gin school and visitor centre ready for visitors this Summer.
71 Brewing, based in the former Blackness Foundry has gone from one Bohemian Pilsner on release to four brews by the end of 2017 (as well as one-off festival beers and collaborations).
DEVELOPMENTS
March sees the opening of the new Dundee Railway Station following a £14m refurbishment. Local architects Nicol Russel have developed a 21st-century station that is in keeping with the ongoing redevelopment of Dundee's Central Waterfront.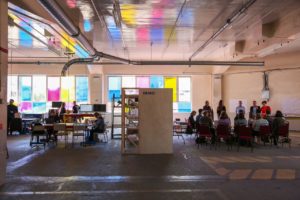 Water's Edge is a new concept in creative workplaces. The former transit shed at City Quay was used for taking goods from the clipper ships and onward into the city. Now it will offer spaces ideal for creative working and entrepreneurship, with an indoor street offering public access to exhibition and events spaces and a restaurant overlooking the quay.
Another space that was once a hub of activity is being brought back to life. The former West Ward Works of publisher DC Thomson was once used to print annuals for all its the publications, including the iconic Beano. The building, which dates to 1806, has been home to the Dundee Design Festival for the past two years and now a blueprint has been drawn up to transform the 200,000 sq ft empty factory space into the UK's largest cultural arts space at a cost of £18m.
DUNDEE AND THE WORLD
Already named by GQ as the UK's "coolest little city", Dundee featured heavily in the end of 2017 and beginning of 2018 recommendation as a must-see destination for this year.
For further information visit www.dundee.com @dundeecity