Weddings in Vegas
The famous saying: 'what happens in Vegas stays in Vegas' need not apply when it comes to getting married in the wedding capital of the world. In fact, a wedding in Vegas is guaranteed to be so unforgettable, magical and fun, that you'll want to re-live the memories and perhaps come back to renew your vows, as thousands do every year.
Absolutely anything is possible in Vegas when it comes to tying the knot – from a sophisticated, lavish and traditional affair at a palatial hotel, to fun-packed 'quickie' at a drive-through chapel – officiated by an Elvis look-a-like!
One thing is for sure, you are truly spoilt for choice as our trip proved that Vegas continues to be one of the most memorable destinations for couples from all over the globe. This summer, the team here at Wedding Ideas jetted out to Vegas to check out the very latest Vegas had to offer. It didn't take us long to learn why, with over 100,000 marriage licenses issued annually, Vegas hits the jackpot for wonderful weddings.
Day One
Arriving in Vegas instantly puts a smile on your face. The city we've all seen countless times in films certainly lives up to its glamorous and magical reputation thanks to the lights and colour of the famous 'strip' (the major route running through the centre). Flights, direct from the UK take about 10 hours, so do rest as much as you can before you arrive. Trust me, you'll need all the energy you can muster once you land – this place is non-stop fun, 24-7.
On arrival, our group went straight by limousine to our hotel. While a huge treat for us, we were reliably informed that hiring a limo in Vegas is very common and often cost-effective for groups. If you're wedding group is in town for more than a few days limo firms will do you great deals.
Arriving at the HUGE and ornate Bellagio Hotel and Resort, we were all blown away by its opulence. As seen in the movie Oceans 11, this hotel is famous for its wonderful lakeside fountain show which runs all day long and is especially beautiful at night. It's a popular choice for very romantic weddings too as it has a host of gorgeous chapels and outside locations where you can tie the knot.
Dinner on our first night lived up to our expectations that everything is on a grand scale in this city – we ate at the famous French Alize restaurant, located on the top (that's 50 floors!) of The Palms hotel complex. It's one of the very best restaurants in the whole of Vegas and thanks to its amazing views, is an unforgettable experience – particularly suitable for romantic dinners. Give them plenty of notice and you can even get married there.
Day 2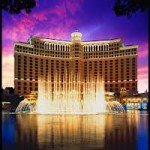 Nearly every major casino resort in Las Vegas has its own unique wedding chapel and countless stand-alone chapels are dotted all over the city – each with its own theme and appeal. Marrying in Vegas is really straightforward – you simply call in at the Marriage Bureau (open 8am to midnight) with your ID and once you have your registration certificate you may bring it along to any of the chapels and book your wedding. You can even marry on the spot if they have a free slot – some are open 24 hours a day.
Our first stop was the upmarket Wynn Hotel. The splendour of the chapel here is pretty impressive and makes a great choice for those with a bigger budget and traditional tastes. Outdoors there's a waterfall and even a golf-park. Priceless works of art are everywhere and it has the real 'wow factor'.
In total contrast we then headed to the Viva Las Vegas Wedding Chapel. The chapel is soaked in Elvis and 1950s memorabilia and we were treated to demonstration ceremony. The chapel's very own 'Elvis' look-a-like rocked up in a pink Cadillac and serenaded us with 'Love Me Tender'. An unforgettable option for couples who want a retro and fun vibe.
Day 3
Caesars Palace Resort is one of the most famous in Vegas and our visit did not disappoint. Never mind the huge casino, the hotel's palatial, elaborate Roman theme and décor is mesmerizing. A popular wedding venue, the hotel has some of the prettiest choices for outdoor locations – from a classic garden gazebo, to an intimate rose garden, complete with fountain. It has one of the best spas in town too – divine.
We ended the day on a truly romantic note – dinner at the Picasso Restaurant back at The Bellagio, overlooking their fountain lake. On the hour, the spectacular fountain show is synced to classic operatic music. It brought a tear to our eyes – just incredibly beautiful and unforgettable. An absolute must-do attraction.
Day 4
Wedding cake for breakfast? Yes, our day began with a sublime cake tasting session on the Terrazza di Sogno terrace of the Bellagio. World Pastry Champion and resident patisserie chef Jean-Philippe Maury is in hot demand as the number one wedding cake maker in Vegas. Anything is possible in Vegas and you only have to ask.
Keeping with the Italian theme, we then took a tour of the nearby stunning 5* Venetian Hotel. Only in Vegas can you get an indoor recreation of the city of Venice – complete with a canal with gondolas! The rooms and suites here have a wonderful air of refinement. For the couple who loves a bit of European elegance and yet the fun and sun of the States, this is a great choice.
Pool parties are big news in Vegas and day or night, it is possible to slip into your bikini and party. Among the best is the MGM Grand Resort's and Azure, a very exclusive pool party located on the rooftop of the Venetian – stunning views.
We ended our day with a 'bachelorette experience' – which consisted of visiting the super-impressive Tao Club. If you are planning on combining your wedding with your stag or hen night, this place is great fun and you even get a bag full of hen/stag goodies.
Day 5
Everything is big and extravagant in Vegas – including breakfast! We enjoyed classic American waffles with cream and maple syrup at the delightful Serendipity Café by Caesar's Palace hotel. Be warned, Las Vegas has such an exceptional reputation for great restaurants, so allow yourself to put on a few pounds enjoying the amazing food on offer.
In total contrast to central Vegas, we then went by limo slightly out of the centre to the new 4 star M Resort hotel and spa, seeing the desert along the way – very exciting.
The M Resort was a breath of fresh air after the hustle and bustle of the casinos and luxury shops. Here, you get to see the real Nevada. The magnificent expanse of the desert makes for a breath-taking backdrop to any wedding ceremonies. This hotel has a sophisticated rooftop bridal venue with 360 degree views. Thanks to its location (just a 20 minute drive into the centre) couples get the best of both worlds. The rooms and suites here are huge too and much better value than ones of the 5 star hotels back in town. The pool is a top feature and a popular outdoor wedding.
Our last day ended on high with a wonderful dinner at the award-winning Aureole Restaurant at the Mandalay Resort. Not to miss out on some authentic Vegas nightlife, we then sampled the hugely popular rooftop nightclub, The Marquee at The Cosmopolitan Hotel, a top fave with celebs. Couples can go for the VIP treatment here and hire their own 'night beds' here or booths, complete with their own concierge. Now that's living it up – Vegas style.

Fast Facts Vegas
Location – in the heart of the sizzling hot Nevada desert on the West coast of the USA
Currency – US dollars
Top tip – don't forget to bring your passport or driver's license at all times– it is required by law in practically all bars and restaurants
Flights – London to Vegas averages 10 hours non-stop
Weather – sizzling sun all-year round – take care in the summer – it can get to 120 degrees
Find out more – For general information British tourists should contact http://www.visitlasvegas.co.uk/ and for dedicated wedding ideas and options, check out http://www.visitlasvegas.com/planning-tools/weddings/las-vegas-weddings/
Why Choose Vegas?
1) Flexibility – an amazing array of venues and wedding packages available means that whether your budget is £50 to £50,000, every taste is catered for.
2) Sun factor – the guaranteed great weather. Vegas is located in the sizzling hot Nevada desert and has year-round sunshine – often reaching 100 degrees plus in the summer.
3) Honeymoon in Vegas – many couples combine their big day with a honeymoon in Vegas – the city has everything you could wish for. From five star spas, desert trips to the Grand Canyon, pool parties day and night, right through to gentle escapes to golf courses and horse-riding, couples are spoilt for choice.
4) Hen and stag fun – The success of films like Bridesmaids and The Hangover has inspired many Brits bringing a group of guests from home to celebrate their stag and hen parties (or bachelor or bachelorette nights as they're called in the states ) in true Vegas style.
5) Follow the stars – not only is Vegas packed with theatres showing top concerts and cabaret shows – many that can only be experienced in the city – it is also a hotbed for celeb-spotting too. In fact, countless top stars have tied the knot in Vegas, including: Angelina Jolie, Chris Evans, Noel Gallagher, Britney Spears, Richard Gere, Cindy Crawford and many more. Not all the marriages lasted but they certainly had fun on their big day!