Hats off to HayMax – shortlisted at the Mother & Baby Awards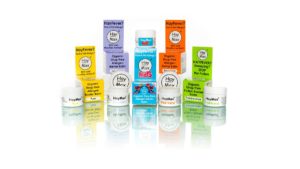 HayMax is turning out to be a real 'life-saver' for pregnant and breast-feeding mums with dust or pet allergies or hay fever. And now HayMax organic allergen barrier balm has been shortlisted in the Best Pregnancy/Maternity Product in the 2018 Mother&Baby Awards.
Max Wiseberg, MD and creator of HayMax comments, "We're absolutely delighted to be shortlisted and we hope this will add to over 40 awards we have already won – one from Mother&Baby earlier this year! We get so much positive feedback from mums, pregnant women and children, often using words like 'It saved my life' and 'HayMax saved my summer'. So we're delighted to be recognised by this well-respected parenting publication.'
HayMax is a balm for dust and pet allergy and hay fever sufferers. It's 100% natural, organic and drug free, and it's suitable for children and pregnant and breastfeeding women to use. When applied to the base of the nose and around the bones of the eyes, pollen, dust and pet allergens stick to it before they enter the body. It has been proven to trap dust and pet allergens and block more than a third of pollen from entering the body [1].
The Mother&Baby Awards are now in their 24th year, and the 2018 awards are a record-breaking year for entries and testers. Teams of over 6,900 mums (and their bumps or babes) have been testing products to their limits to ensure only the best of the best make it through to the shortlist. Testers reviewed products both quantitatively and qualitatively in the areas of usability, design, quality and value for money.
The award winners will be announced in a glittering ceremony on 28th November in one of the biggest nights in the parenting industry calendar. The prestigious ceremony, at the Westminster Park Plaza in London, will celebrate the best in the parenting market.
There is no cure for hay fever, pet or dust allergies, but HayMax works by preventing the cause to try to reduce or, in some cases, even eliminate the effects of the allergen. As long as the balm traps enough of the pollen, pet, dust or other airborne allergens to leave you with less allergen in your body than it takes for you to react, then your symptoms won't be triggered. And all this is achieved without using any pharmaceutical drugs which might cross the placenta or be found in breast milk.
It is made from a blend of organic beeswax, seed oils and other natural organic ingredients (depending on the variety). The balm is non-drowsy so will not affect children's performance at school or during their important exams.
HayMax recommended retail price is £6.99 per pot and it is available from Holland & Barrett; selected Morrisons and Boots; independent chemists, pharmacists and health stores; on 01525 406600 and from www.haymax.biz