Review by Shine! editor – Collette Walsh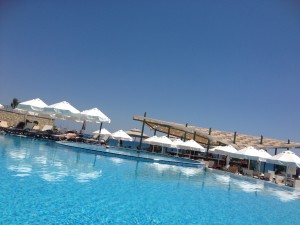 For guaranteed sunshine Turkey never fails. Turkey has long been a favourite destination of mine simply thanks to its amazing scenery, delicious food and wonderful people.
It is also on my top ten list of destinations thanks to its value for money – even when it comes to staying in five star luxury, such as the Sensatori resort in Side, Turkey.
The Sensatori resort collection is a real jewel in the crown for Thomson Holidays. These specially designed resorts offer the finest holiday experience for that touch of (or should that be lashings of) luxury. The 'high end' complexes have been designed with both style and sophistication in mind.
These holidays are designed to "fuel the senses" – complete with 5-star surroundings, gourmet dining, state-of-the-art bedrooms, and first-class pools. You can find at present nine Sensatori resorts – with locations that include Jamaica, Mexico, Cyrpus, Crete and Ibiza.
The Sensatori Turkey opened in 2013 and it's a superb resort – really impressive. The rooms alone are a treat – fabulously spacious and each with a really stylish bathroom. It has a very 'luxury spa' feel. After unpacking (the transfer from the airport is about an hour and not gruelling at all) I rocked up on one of the loungers and took in the views. There are no less than four pool! I loved the adult only pool which, if you are in need of some grown up chill time, is a fantastic welcome – and has a fab bar.
One of the advantages of going all inclusive is that trips to the bar are stress-free and let's face it, a pina colada under the sun and with my friends was pure bliss.
As well as four pools, this beachfront hotel comes with no less than six very good restaurants (from Thai/Asian cuisine and Italian, to local and even all-day snacks, you are ridiculously spoilt for choice). There is also a very stylish Butterfly Bar designed by Philip Treacy.
The air-con is essential as the heat can be quite intense but there is always the chance to cool off and take a dip in the sandy sea in front of the complex. I was especially pleased at the number of activities available and embraced the fitness and yoga classes which were very good. We even did a candle-lit yoga class under the moon one evening, which was really special.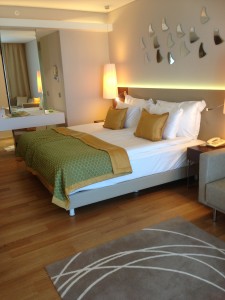 The staff offer a level of service which is exceptional – nothing is too much trouble and they are super efficient… rarely will your glass be empty or empty plate left on the table. Each meal time, entering the main restaurant I would be constantly blown away with the variety of food available and the beautiful displays of fruit and cakes. My good intentions of eating salads all week quickly slipped – it was all too irresistable!
We combined our holiday with a few days of excursions and there is a great offering to be had. The history of this part of region is fascinating and oozing in culture, amazing architecture and sensational scenery.
I left Sensatori Turkey recharged and with some priceless memories. It was extremely good value too – another reason to return. I'd love to experience the other resorts but I am told that Sensatori Turkey has a unique charm which is largely down to its wonderful location.
Prices start at £438 per person – for more information and booking info, go to: Thomson Sensatori Turkey