Review: the Penclic keyboard and mouse – Verdict: 9 out of 10 – excellent
Stockist – buy direct and with best value prices from Viking Direct here: www.viking-direct.co.uk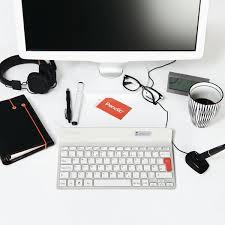 I've suffered with arthritis (RA – Rheumatoid Arthritis) since my late teens and as a journalist I've also developed quite bad RSI (Repetitive Strain Injury) in my hands too.
For as long as I've been typing and suffering (!) I've been on the hunt for useful aids to make my typing and computer experience less of strain on the joints in my wrists and fingers.
Over the last 20 years I've tried countless ergonomic keyboards of various sizes, brands and structures.
For my main office I have used a full-size, curved, wrist-friendly plat-formed keyboard but for my laptop (which I use more than any other writing tool these days) I've struggled to find a keyboard that's compact, light-weight and also easy on the joints in my hands.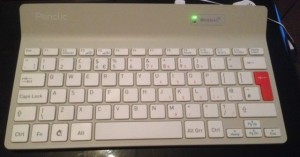 I came across the Penclic Mini keyboard recently and decided to 'test drive' it for Shine! as I know many readers also have joint problems and, in the age of constant computer interaction, it is hard for anyone to avoid RSI.
To make sure this was a 'real life' test of the keyboard and its matching mouse, I alternated using the Penclic and my standard in-built keyboard each day over one month to see if I felt any difference.
So, a month on I am pleased to report that the Penclic experience has been very positive. I'm no 'techie' so I was thrilled at out super simple it was to install – it took seconds to pop the rechargeable batteries in and to hook up the USB for charging.
I opted for the excellent wireless version – the K2; so once my keyboard and mouse were charged I was able to use them both with ease.
The Penclic keyboard is a Swedish design and let's face it, those style and design savvy Swedes are good at creating next generation, quality and good value gadgets.
This keyboard is so light-weight that it's no trouble at all to carry with you if you are a mobile worker like me – I often write on the train, in cafes or hotels (if I'm reporting away from home), so investing in a good ergonomic keyboard is essential.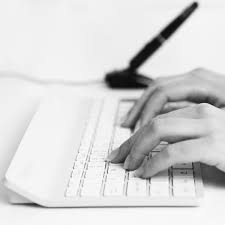 Now, if you have RSI it is often the constant pushing down on to the keyboard buttons that aggravates the strain on your fingers and wrists.
However, the Penclic buttons are remarkably light, soft to the touch and best of all just a touch bigger than a standard keyboard.
I'm informed that this is because it's a 'chiclet' keyboard which uses scissor switches which don't have the same springy feel of mechanical keys but are better than silicone dome switches alone.
Basically, to you or me, it simply means the sensory experience is a lot less stressful on your hands. You can raise the keyboard's height a touch too by using the inbuilt hinges – it all depends on your personal preference – I like my Penclic a touch raised for comfort.
It's a classic QWERTY keyboard so there's nothing new to change with your co-ordination when typing but handily, there are few additional functions (F1-12) to the 78 keys including: Mute, Volume Up/Down, Pause/Break, Scroll Lock, Num Lock, Print Screen, Insert, Page Up/Down, Home and End. All very straightforward.
It measures a dinky 11.2 by 6.2 inches and is super-slim (about 5mm).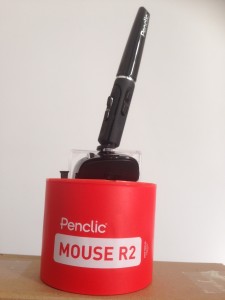 The Penclic mouse: I love this mouse and can confidently say it is the best ergonomic mouse I have used (and I've tried many over the years).
It's a very clever pen-style design – elegant and actually enjoyable to use. I now can't use anything else.
Rather than pressing down on a left or right control pad as with a standard mouse, you simply click either of two side buttons – a lot less stress on your fingers. Clever.
Overall, I really recommend both the keyboard and mouse as a good investment for anyone keen to use a more ergonomic set of computer tools but who also appreciates good design and simplicity.

Specification:
The Penclic Mini Keyboard is wireless, connecting via 2.4GHz wireless connection through a nano USB dongle – this is tiny and neat.
The wireless connection gives you a 15-foot range. You can use the Penclic keyboard with a PC, Mac etc.
It uses two rechargeable AAA batteries (included), which in turn charge off of a USB cable. Penclic claims that for daily use, the batteries should last roughly two months between charges. The K2 Keyboard comes with a USB to Mini USB cable complete with recoil device, making it compact and travel friendly.
More info: read more about the Penclic keyboard and range here www.penclic.se
To order – go to www.viking-direct.co.uk