The HD Brow phenomenon: One of the big beauty buzz treatments of recent times has got to be high definition or HD brows. Likened to a 'mini facelift' an HD brow treatment can dramatically improve your face shape and frame your eyes beautifully. Best of all, it's non-surgical and quite affordable – anything from £25 to £30 (if using an offer) to £45 for a luxurious HD treatment (which may include a brow massage, a glass of bubbly or samples).

Pluck me baby!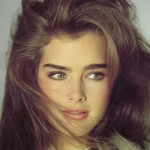 Brows have gone through many fashion phases – from the virtually spider thin eyebrows of the 1970s and early 1980s, the bushy late 80s brow (think Brooke Shields – here on the right), the understated brow of the 90s and the groomed (and usually overly threaded) brow of the noughties.
However, in the last few years natural, bushy brows have enjoyed a resurgence and women (and men) have been chucking their pluckers away! But a really great brow – think Lily Collins and model Cara Delevingne – requires clever grooming and cultivating to get that really striking look.
Eyebrow pencils are a must for any girl who wants to add definition to her brow and if you are serious, a really smart brow kit or palette. However, if you want the crème de la crème of brows the HD experience is a must!! Shine mag researched what getting fab HD brows involves. For the real deal, go to an officially trained HD brow artist – they undergo specialist training that gives you the confidence to know that they really know what they are doing.

Shine! mag decided to opt to go to one of the top HD brow experts in the North West (UK) – leading UK skin specialist and facialist Ky Dolce. Based at his Ky Dolce Skin clinic in Manchester (handily located at Trevor Sorbie hairdressers – Piccadilly) Ky has been developing his beauty and skin expertise for almost 20 years. He is at the forefront of delivering the latest and best skin treatments in the UK and a dedicated HB brow expert.
What exactly is an HD Brow experience?
According to official site for HD.Brows.com: It's a unique treatment for creating perfectly well-groomed, high definition eyebrows. The HD Brows procedure transforms the way you look and more importantly, how you feel. Unlike other eyebrow treatments that use a 'one shape fits all' technique, HD Brows stylists assess face shape and colouring before creating a bespoke brow, tailored exclusively for the client.
Using a combination of skills, from preparation and personal consultation to custom blending, designing, creating and tailoring the shape as well as customised aftercare, HD Brows stylists can transform a face to such an extent that the effect has been likened to a mini facelift.
Shine's fitness editor Bridget Daniels went along for her first ever HD brow treatment at Ky Dolce's clinic recently and here is her review and verdict on the process: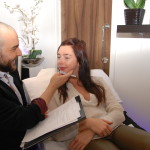 1. Having never experienced the wonder that is HD Brows before, I took myself to see Ky Dolce at Trevor Sorbie in Manchester to see what all the fuss was about. Admittedly apprehensive about walking out of the appointment with 'scouse brows' I was tentative about the treatment. Ky was so friendly and professional and at the start of my 45 minute treatment we had a chat about the process.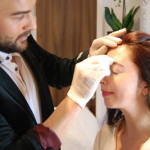 Ky had done a skin sensitivity test the day before to make sure I would be okay with the brow dye and there was no reaction, so we were good to go with the HD experience. Ky is a bit of perfectionist and took a really good luck at my brows, which are quite thick but certainly not professionally groomed. He explained to me how the hairs were growing and how he would be making the best of the good growth I had.
Ky explained that he would work with the shape and natural arch of my brows, only enhancing them in the most natural and beautifying way. The treatment room is clinically spotless with an array of dermalogical equipment and creams I was very curious to try. Ky asked me about how I do my brows, from this he then gently set to work as I lay back on the comfortable treatment bed, very much in capable hands.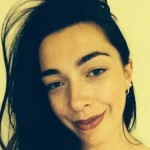 Ky waxed my brows (a more thorough method I was told than threading) creating a defined brow that framed my face perfectly. He used a dye to create a depth of colour that complimented my natural colouring, which was subtly noticeable. After careful finishing touches and the application of a calming lotion around the eye area to minimise redness, I was done! The brow treatment lasted no longer than 45 minutes and I was glad of the careful and measured amount of time it took – no one wants a rush job!
Going to a restaurant opening and party later that night I was surprised at how many people commented on my brows, complimenting me on their understated definition and fab arch – I had definite brow game. Now, a few weeks later I have noticed minimal regrowth and have been able to maintain the shape Ky created perfectly. I'm booked in for a touch up soon!
For more information or to book an appointment go to www.kydolceskin.com Email: bookings@kydolceskin.com or call for an appointment: tel (0)161 8392255
Location:
Based inside the Trevor Sorbie Hair Salon Manchester
19 Spring Gardens
MANCHESTER
M2 1FB
link to map here